Ranking
Company
Points
Overview
Links
What is Pricing Software?
Pricing optimization software products are used by businesses to manage pricing in a coherent, automated, flexible, and effective way. Pricing software helps companies to keep prices optimal, grow key business metrics, minimize human involvement, and react to market changes proactively.
The history of pricing software traces back to the mid-1990s when the early prototypes of modern solutions were released. The first wave pricing software was capable of processing historical data but remained rough in procession and daily use. The second wave of solutions appeared at the beginning of the 2000s. Airlines companies were the first to adopt pricing software capable of generating prices for flight tickets based on the mix of changing factors. But poor ROI and difficult integration prevented these prototypes from massive adoption. Eventually, the first third-wave solutions were released in the 2010s.
Today, there are plenty of solutions on the market offering a wide range of features and tools for various business needs from price monitoring to price and product intelligence. Being easy in integrating and use, third-wave dynamic pricing software is more often preferred to other alternatives, e.g. in-house pricing systems. Pricing optimization software is used across various businesses with the retail industry being a leader in implementing pricing solutions. The mass adoption of pricing optimization software in retail can be explained by the fact that it helps to both gain financial growth and retain customer groups.
Pricing optimization software features may include:
Automated rule-based pricing campaigns
Performance analytics and goal tracking
Assortment segmentation
'What-If' scenario simulation tool
Event-driven repricing campaigns
Price management on the store/channel/pricing zone level
Demand-based pricing campaigns
Workflow and process management
Markdown and promo optimization
Cross-product and cross-channel consistency
Import/export support for other systems (e.g. ERPs, CRMs, etc)
What is Pricing Optimization Software?
Pricing optimization software helps businesses to find optimal price points by using advanced algorithms and best econometrics practices. Such algorithms in price optimization software (often powered by artificial intelligence and machine learning) can determine and predict dozens of pricing and non-pricing factors, like demand dynamics or price elasticity within the portfolio.
Even though the terms 'pricing software' and 'pricing optimization software' are often used interchangeably, the latter term has a more narrow meaning being applied to the most advanced examples of dynamic pricing solutions, such as retail pricing optimization software.
For example, in contrast to more simple repricing tool, pricing optimization software enables both traditional and ecommerce retailers to run pricing campaigns based on demand and price elasticity which can increase revenue by 15% and a profit margin increase by 5% in the long run.
Profit/Advantages of using Retail Pricing Software
Retail pricing software remains the best retail pricing optimization tool to increase key business metrics by means of pricing. The key advantages of using pricing software include:
Transparency and value insights for management and operations
Structured approach fostering pricing transformation
Coherent and unified price management across all channels, price zones, or geographical regions
Parametrized & calibratable pricing logic to leverage pricing power
Multiple pricing logics allowing efficient time and effort allocation for pricing
Pack size/caliber explosion logic for effective SKU price differentiation
Logical and consistent approach supported by corporate-wide integrated maintenance
Scalable and expandable price management system allowing integration with other systems (e.g. CRMs, ERPs, etc)
These are the general benefits of dynamic pricing software. Specific advantages might be different depending on a company's pricing strategies and business goals. For example, retailers facing overstock typically utilize dynamic pricing software to run smart markdown campaigns to sell goods with the highest possible margin based on demand patterns and deadlines.
Best retail pricing tool for Retail Industry
Price optimization software features comparison
Competera
Revionics
BlueYonder
Pricefx
Pros
OmniaRetail
Pricing level

SKU
Category
Portfolio
Stores
Regions

Elasticity-based pricing
Demand prediction
Goal management
Pricing scenarios simulation (sandbox)
Promo management
High prediction accuracy
Low consultancy for implementation
Quick integration (up to 8 weeks)
Scalability
Friendly UI
ROI-based pricing model
Price Optimization and management for Pricing Strategies in Retail
Main Solutions:
Pricing Optimization
Competitive Intelligence
Retail Management Systems
Competitive Data Analysis
Price Tracking
Dynamic Pricing
Price Intelligence
Price optimization seeks to predict how customers will react to different prices set for a product using mathematical analysis. Determining this helps retailers understand what prices would be optimal for their products according to their pricing strategies and business goals, whether that be to increase sales, increase profit margins, etc. Traditionally speaking, price optimization and management were done manually, collecting external and internal data and making calculations for products using excel sheets and sometimes with the assistance of simple software.
However, conducting price optimization has become more complicated within the past few decades, and as a result, the software used to make these calculations has become more advanced as well. The first companies to utilize price optimization software typically had diverse product lines as well as broad target markets. Advanced software for price optimization is not exclusive to retail giants anymore, however – analysis shows that even prior to the 2008 recession, the global market experienced a rise in competition, which pushed companies to search for new business approaches.
This increased complexity and volatility in retail resulted in a gross drop in profits for manufacturers and distributors alike. As a result, more and more retailers of all sizes worldwide are beginning to integrate pricing optimization software into their pricing strategies to remain competitive in tough markets with unforgiving profit margins. Price optimization algorithms can be considered one of the most crucial areas to invest in for companies that are still relying on ad hoc analysis and spreadsheets for their pricing needs.
The pricing optimization software is a system aimed at increasing business profits by analyzing the market condition of dynamic prices and formulating an effective pricing strategy on this basis. This is a great alternative to traditional methods of price optimization, which consist of manual settlements.
The pricing optimization software is suitable for businesses of all sizes, from online clothing stores to supermarket chains. For this, a whole complex of pricing data is used, obtained as a result of monitoring the price range in the market, the range of products, and pricing conducted by competitors. Also taken into account are factors such as the behavioral mood of potential consumers, analysis of sales indicators during the campaign, changes in market conditions, and the economic situation in the country.
Thus, based on the data obtained and processed with pricing optimization software, retailers can set the optimal price for their product, the most favorable and attractive for consumers. The introduction of price optimization tools software allows you to develop an effective dynamic pricing strategy for promoting a product or service on the market and, as a result, helps to increase the company's profits.
What is price optimization in the deeper term?
For most companies, there is still plenty of room for improvement in their pricing strategy.
That's where pricing optimization methods come in. When you find the right pricing balance between what people are happy to pay and what your company can make money for, everything becomes much easier. Sales and marketing, profitability, and growth.
Price optimization is the process of analyzing your customer and market data to find the best possible price point for your product or service, meaning that you sell more products without sacrificing production costs. The goal of price optimization is to figure out the best price that will generate the most sales and success.
Successful price optimization is about finding the balance between price and profit. It'll have a major impact on your sales, customer satisfaction, and profitability. The success of it can also affect your level of possible growth.
The process of optimizing pricing isn't always easy. The marketing research analysis is crucial for understanding both your business and your customers. Pricing your products or services isn't always straightforward, but it can be quite easy with the right tools and knowledge about the concepts of pricing.
Price optimization starts with a list of the information you'll need to have. That includes things like:
Customer survey data
Demographic and psychographic data
Historic sales data
Operating costs
Inventories
Machine learning outputs
Subscription lifetime value and churn data (for subscription business models)
Pricing optimization programs are similar to dynamic pricing strategies that other industries use, except dynamic pricing in other industries tends to fluctuate a lot more frequently than it does in the case of price optimization.
To price your product optimally you need to understand how consumers might react. Applying basic economic principles to pricing your product or service will make it easier for you to decide how much trying to charge.
The history of price optimization: the road to optimized prices ​
Since the beginning of commodity-money relations, the price has always been at the center of attention. Therefore, price optimization is not a new phenomenon, but a historical one. Humans have always been able to know the worth of an object based on how much a customer is willing to pay. One example where people were engaged in pricing is auctioning. Auctions were invented millennia ago and they're still seen as interesting today even if they're not used very often.
For a long time, many business owners have implemented fairly basic strategies like using markup on the case cost and forecasting to achieve their own KPIs.
It is only natural that sellers, as well as buyers, are unhappy when they have to sell goods at auction. The idea of posted prices was developed to eliminate this problem. These enabled a fair price to be agreed upon so more people can buy. This process streamlined the sales time, which maximized profit per sale.
Over technological time, trade evolved and expanded with the number of markets growing, leading to more variety and improved economic welfare. It should be noted that the pricing policy was based more on intuition, which was not always accurate.
As the number of pricing decisions continued to increase, retailers needed a more reliable and streamlined solution.
Example
For a company managing 1,000 products and making hundreds of thousands of decisions per season, it's vital to have effective supply chain management. A large, multinational retailer with access to 30,000 products sold in 10 countries across 3 distribution channels and list prices which are constantly changing will make millions of pricing decisions a year.
One of the factors that go into a decision is price differentiation because it is specific to every customer. Many enterprises differentiate their offers and prices accordingly.
To make the most of your marketing, need to research differentiation strategies and prices. That way you can decide whether you want to offer pricing for certain customers or extend it across various product segments. Many factors go into the pricing of a financial product such as regulation, market practice, and the maturity of the pricing function. All these elements factor into what kind of financial decision is made.
At this point, the speed at which price determinants change only continues to increase. This means that industries were having to evolve as often and quickly as possible to stay relevant. Today's market is constantly changing, which makes it difficult to lock down on prices. For example, the price you set yesterday may not be actual today.
With technology rapidly expanding, more opportunities arise to make informed decisions about pricing your products.
Three things you need to optimize for
Pricing strategy is all about finding that perfect balance between satisfying customers, being profitable, and managing demand. The customer is always right and as a business, we have to listen carefully so we can be sure to provide them with the best possible solution. Building a high-quality product can be a long and tiresome process, so some companies try to strike the right balance. When pricing their product or service, they consider two things: the starting price of their product or service and what the market is willing to pay. In addition, they take into account any discounts or promotions that the company might offer.
Starting prices
The starting price of your product is important as it tells customers upfront whether or not your product/service is worth their time. Before you offer any discounts, your product should be merchandised at the recommended retail price. For businesses that sell products and services which do not vary a lot over time, for example, food, it's often best to start with the optimization of the price.
Discounted prices
In making sales, it is imperative to have information on how best to attract new customers and what is needed for this. Offering your product at a discount or with a freemium version can both be great strategies to bring in customers. Customers who sign up through freemium offerings cost, on average, only half as much to acquire. What makes discounted prices so effective is that they often work well with short-term products. Those would be in line with seasonal and changing trends, etc. This can be observed in the clothing industry, air travel, and tourism. This will allow businesses to get rid of excess inventory for the cost of their customer's loyalty. The availability of various discounts, over time, must be considered when determining the profit contribution of a product.
Promotional prices
What promotions can you offer your customers to make them useful to you as well? It is worth answering the question: will the price reduction bring profit or is it better to keep the initial price? It is also necessary to analyze what kind of discount should be offered to the client. What is the typical length of time it takes for merchandise to sell at a given price? Pricing can be a powerful tool for boosting sales! For example, your company might want to change its prices to promote new products/promo bundles. Temporary price cuts are common in retailing as a short-term promotional measure. They're aimed at creating the perception of scarcity and urgency, leading to an increase in sales. Promotional prices are a great way to expose customers to new products or bundles. This is true of many promotional tactics though – 'Buy One, Get One Free is a popular one.
Why many companies fail at price optimization
To sum it all up, more companies don't want to invest a lot of time and effort into optimizing their pricing decisions. To set correct estimates, customer research is required, which takes time and costs. Unfortunately, many companies only spend a few hours on their pricing strategy each year, which is not enough.
Often companies apply strategies that are based on guessing prices and using discounts without considering the core values of pricing. It would be more appropriate to develop a clear strategy for price optimization.
Guessing
Most companies underutilize the analytics or metrics they receive from customers. Instead, they mostly guess at the level of the optimal price. We need to be careful when using such approaches. Pricing is a complex and subtle subject, but even guessing at it can work to some extent. This may mean that your pricing policy is well thought out. Businesses must have a sound price optimization strategy for optimal revenue.
Misunderstanding tiers
Most companies struggle with deciding the right number of pricing tiers they should offer. Find out how to choose one here. It's important to make sure that you have enough conversion points before you start adding extra tiers to your landing page. Too many or too few options in a product line will result in lower conversion rates. For example, as the number of tiers increases, people will buy less because there are more restrictions and it becomes increasingly difficult for people to find what they want.
Relying heavily on discounts
Discounting can sometimes cause more harm than good. This is because many companies use it incorrectly, on both the point of customer behavior and their own business. Yes, short-term discounts can help you with your initial goals, but in the long term, this could hurt your acquisition metrics and make customers less loyal to your product as a result. Discounted customers have a double-digit higher churn rate than their full-priced counterparts—either they've been trained to devalue the product, or they weren't the right customer for our company in the first place.
Not pricing for value
To better optimize your prices, you can use value-based pricing. This pricing model considers both you, the seller, and your customer. For most companies, determining the price of their product is like a guessing game. But a value-based pricing model will help you know where you should set your prices so that different customers are willing to pay different amounts. Essentially, this maximizes revenue because the right people are buying your product at the best price for them. One issue that many business owners have to grapple with is figuring out what the price should be. It's not easy.
Not localizing pricing
Localizing your pricing allows you to make a name for yourself in new territories. This is especially true when it comes to growing on a global scale. But this is something a lot of small business owners overlook because localization takes time and effort, which can get in the way of quickly developing your business. However, it's an aspect that you should consider before moving your company overseas.
This is why so many companies don't increase their prices largely- they're afraid of the negative impacts that it will have on their business.
They choose the wrong value metric
Decide on a pricing strategy early on. Understand how you want the price to be aligned with the value your product provides. There has been a lot of research into pricing models, which leads to more and more companies changing their pricing algorithms. It's important to consider the consequences of your decision before committing to new metrics. Make sure it is the best choice to conduct your business. It's important to make sure that your pricing is clear and easy for you and your customers to understand. It should also make sense for both parties to decide on the price. Furthermore, you need to be able to measure this value and track it in your system, otherwise, you won't be able to monetize the information.
How to optimize your pricing
Understanding your audience and where they're willing to spend money allows you'll to calculate which pricing strategy will work. Price optimization is about unraveling who your most profitable customers are and working with them to find an individualized experience that matches their needs. A deep understanding of your market is a vital prerequisite for success. For example, retail strategies will differ from the doctrines of large companies. You can use this knowledge to set your pricing, ensuring that you are placing a fair value on our products.
Get to know your customers
Think of pricing as an experiment— each business has different needs and goals. It's essential to figure out the right number so that you make a healthy profit but are still competitive. Pricing decisions need both qualitative and quantitative data to guide them, like industry benchmarks, competitors' prices, etc. Analytics is the answer to figuring out what your customers want and how much they will pay for it. This will help you shorten the demand cycle and make your bottom line grow.
Analyzing your data can give you actionable insights into the performance of your business. These insights may include things like what areas need improvement, your churn rates, and more. There are many different types of analytics software out there that make sense of all your metrics and turn them into insightful data. One solid example is Price Intelligently. This would be done by slicing and dicing your customer's data to provide insights that could help improve your pricing.
Qualitative data obtained during communication with customers is important. Customer feedback is so important, and you're never going to get a more accurate answer from a survey. That's why a phone call can often be your best way to get feedback and stay ahead of what they need.
Quantify value
Once you've collected your customer data, it's time to work out how valuable your product is to each customer. Having a clear picture of your business's value metric is important not only for being able to analyze the effectiveness of marketing efforts but also because it demonstrates your ability to close sales. The indicator of value is how much you get from your product. Pricing a product appropriately is the difference between survival and thriving. Other popular indicators for SaaS businesses include how many seats are on the platform, how many files are hosted, how much bandwidth is being used, and more. Your success metric should be what the customers in the market want and can be quantified to constantly improve upon.
Analyze the data
You have done the research and identified the main features that customers like. Now let's see if there are any similarities in the features, benefits, price points, and value metrics. The more important ones will come first. You'll also discover the pricing tendencies of different markets, demographics, and personas which will help you determine what price will work best for them.
You've done your market research – now you need to know how to price your product or service competitively. Try using tiers or packages and you'll see the benefits in your sales. Pricing tiers should cost that which you believe they are worth and align with the customer segments you are successfully targeting.
Adjust pricing and monitor
Even after you've set your prices, you still need to keep track of the changes in the market. Pricing needs to be a balance between what your competition charges and what value you provide.
Pricing is a continuous process. Get the pricing right and you'll have a lot less to worry about. You can think back to the dart board example we did earlier. Pricing adjustment will help eliminate parts of the board. After the adjustments, you can focus on the good ideas for your store with this newly found customer insight.
To succeed and reach your target audience, you'll have to collect user data and analyze changes in pricing strategy as they happen. One of the best ways is to make sure that you get early access to feedback for changes you make. Pricing is such an important factor in a business. Keep track to see if your prices are hitting the right balance so that you make more money and also keep customers happy. Ensure that it is 'fair'. You should be able to find subtle changes that can affect your pricing. If things don't work out, re-evaluate. But don't be quick to switch and create a new subscriber base from scratch, since you might drive away from current ones.
Example #1: Pinegrow takes Brazil (eventually)
Pinegrow's website builder software, which they sell in Brazil at the same price as in their home market, was seeing an issue with this.
By adding BRL as a currency and lowering the prices of their products to reflect the local economy, they saw a lot more customers.
The increase in incoming customers indirectly led to an upward trend in Pinegrow's revenue. The BRL prices that Pinegrow used were about two-thirds lower than their initial USD equivalent. Far from harming their bottom line, they saw an increase of 177% in sales even with that heavy discount.
Maximizing conversion rates is vital in today's business world. Customers differ vastly across cultures, backgrounds, and ages so knowing your customer and understanding their buying power is of utmost importance.
To start with, there are several things to consider when researching new markets to expand into. Let's look at some key points:
currencies used
Disposable income
Local pricing of competitors
Your company's size in that industry
General demand for your product
Example #2: Tweakbit do some tweaking
Tweakbit can provide anti-virus software in an increasingly competitive market, but they might not have a lot of brand loyalty because they buy their software to solve a particular problem (most people don't want viruses). This would set them apart as being very sensitive.
Tweakbit's pricing is designed to address your needs. Tweakbit offers discounts both upfront and throughout the entire customer journey. These types of perks can alter your user's perception of the software, helping convince them to pay a premium on what they would have paid without the benefits. In addition to this, they also run regular promo campaigns to make sure the customers' pricing expectations are met.
The price or billing models you charge to customers should be thought through strategically, and researched so that you get the right model for every customer.
Example #3: Smile Software optimize for upgrades
Smile Software's PDFPen has been updated with a focus on the user, following their success over the last few years.
Firstly, we contacted our customers via email to offer them a PDFPen promotional code. This means that within the app, a user's existing license was automatically verified and upgraded to the latest version.
The people who purchased the latest version in January are eligible for a free upgrade. For those who have purchased Smile Software within the past year, they recently introduced a tiered system.
This tiered system was designed to help customers evaluate the additional costs that come with upgrading from basic ($50) or prop ($30). Customers that bought this plan said it helped with understanding "the cost of upgrading from their previous tier."
Common pricing strategies
Pricing strategies vary and are usually chosen based on what industry you're in and how your product is priced. They have both pros and cons. Now that you've decided on your strategy, you can begin the process of determining the prices.
Below are some price strategies to get you started.
Penetration pricing
This is a rather aggressive strategy. According to it, the product is sold at low prices on the market. This strategy aims to disrupt the competition by creating lower prices that are pulling customers away.
Blockbuster and Redbox are just examples of this. While Blockbuster was still offering DVDs for as cheap as $5, Redbox was placing their automated rental boxes outside of many stores. You can rent movies from Redbox for $1 a day, or $1 per day for late fees. Blockbuster is long gone, but Redbox is hanging on– until streaming services bring it to its end.
Competitive Pricing
When you are competing with others, to be the best, you must understand the prices of your competitors so that you can reach your goals. You analyzed the pricing approach of your competitors and set the same prices for your products. On the other hand, you can set higher or lower prices than what your competitors are setting.
To ensure that your profit margins are sustainable given your pricing, you need to make your production and overhead as low as possible. Grocery stores often offer lower prices in terms of packaging for their store-brand products to compete with brand-name items.
If you match the competition's prices, your product will have to be different from those products on offer. Fuel often has the same price, so gas stations must offer something else to attract customers—such as a clean restroom, or cheap car wash coupons.
Increasing your pricing will give you an edge over your competition only if you're offering more value, higher quality, or additional features. Apple demonstrates this with their iPhone cell phones. They charge a slight premium, but they have features and benefits that make it worth the slightly higher price.
Price skimming
With price skimming, you typically launch your product at a higher price to generate more revenue early on. However, the price "skims" down with time. As the novelty of the product wears off, it becomes less expensive.
This is very true in tech products. When DVD players were new to the market they could cost up to $1000, but with technological innovations, now you can get one for as little as $29.99. The prices of DVD players have steadily dropped over time, as technology has improved and become more affordable.
Value-based pricing
Companies use this strategy to set their prices based on what customers perceive the value of the product to be. If you price your products based on what customers believe they're worth, then the more expensive a customer thinks the product is, the higher of a price tag he'll attach to it.
The fashion industry is heavily influenced by value-based pricing. A designer whose handbags are regularly carried by celebrities will be perceived as having a higher-quality product.
Market-based pricing
Market-based pricing is more dependent on what the product has to offer compared to other items in the market. You're pricing your product at or near the prices of your competitors. This is often a characteristic of the market in items like vehicles, raw materials, and other "necessities".
Conclusion
It's a shame that not enough companies spend time on pricing. Not optimizing your prices can lead you to problems and missed opportunities, which can in turn bring down your revenue.
It doesn't matter what you're selling—SaaS software, groceries, electronics, handbags, or even industrial tools. When you optimize your pricing, it has such a big impact on your business that it's something you can't afford to ignore. With the right tools on your end, the process of optimizing your pricing doesn't have to be difficult.
Price optimization is an element of trade that has been around since the beginning, but we don't have to do it the way our ancestors did because thanks to technology, it's much more sophisticated and getting better.
Smart pricing is important to ensure a seller is priced competitively and can offer the best possible price for their products, which customers may alter freely. Price optimization research helps retailers understand how customers react to different pricing strategies to offer the best prices possible.
Thanks to machine learning, businesses have the power to identify key pricing-related variables. These include purchase histories, season, inventory, and competitors' pricing. They can ensure the best prices and offers which are tailored to your KPIs. Because of this many retailers are embracing machine learning as part of their analysis and price optimization.
Price Optimization Process
The process of price optimization starts with price monitoring. To make informed pricing decisions, you need to track competitors' data – prices, discounts, promotions, etc. Consolidation of such a massive amount of data used to be a complex but achievable task. With markets witnessing an exponential increase in the amount of information, however, manual price monitoring is increasingly complex and ineffective. AI-powered solutions alleviate the burden of big data, providing retailers with large amounts of high-quality data delivered in a timely manner, saving time and money in the process.
Some external price tracking providers are taking their software a step further, and offer price recommendations directly from the external pricing tool itself, centralizing the price optimization process into an all-in-one solution. Despite how simple it may sound, these advanced price optimization solutions are still highly customizable and suitable for businesses of all sizes. In other words, they may be an all-in-one solution, but they are far from a "one size fits all" solution.
Pricing optimization software It Is About the User
When one thinks of software, the first thing that comes to mind is the word, "priced." Pricing software is important in today's world. The fact is that the software you purchase has value as well as a price tag. If you are not careful, you can find yourself in a situation where the software you purchase has become outdated and not useful for your pricing teams so it would hardly help with smart pricing decisions.
You need to think about a couple of things when it comes to software pricing. You need to think about how much you will use. How much will it cost to pay for this software each month? Will you be keeping some or all of this software? What is the projected use of this software? When you consider these things, you can come up with a fair amount of money to spend on this software. Keep in mind that the longer you have the software, the more you will be paying for it.
When you have a lot of stored information, this can cost you a lot of hard drive space. This is especially true if you store all of your e-mail messages on your computer. If you have this many documents on your computer, you are paying for storage that you could just as easily have saved on a CD. If you are storing all of your information on your computer, you should think about backing up all of your information. You do not want to lose any of your data. The last thing you want is to be in a situation where you need to go out and purchase software that will get you in trouble because you can no longer find it.
Choosing the Right Price Optimization Software
The amount of price optimization tools on the market is increasing, and it's both good and bad news. The competition encourages innovation but also makes choosing the right pricing optimization software for your company's needs more complicated. That being said, there are a few key things to look out for when searching for the right price optimization software.
First of all, it's necessary to make sure that information collected by the price monitoring software is of the best quality. When looking at the data collected by the dynamic pricing software in question, pay special attention to the following factors:
accuracy rate
depth of comparisons
number of product page scans
depth of matches
Another issue worth considering is that some providers deliver pricing data at specific times of the day, which may be inconvenient when setting up your own scanning schedule. Additionally, this could mean that you receive data at the same time as your competitors, which may take away the competitive edge that this data could potentially give you. It is better to choose a dynamic pricing software that enables you to set up your own scanning schedule, so you can have data delivered to you when your business needs it most.
To ensure efficient utilization of the software, it is a good idea to take a look at the interface which should be user-unfriendly and practical for data processing. The software should be easy to use and transparent, providing deviation alerts so you can respond to market volatility as quickly as possible with timely data-driven decisions.
The provider must be capable to ensure competitive and matching data of a certain quality, stated in a Service Level Agreement. Furthermore, the price optimization software should provide you with MAP violation alerts so you can protect your brand image efficiently.
Lastly, you should consider what exactly the software is monitoring. There are a few basic things that a good price optimization software should monitor:
Company positioning on the market. Are you within the market pricing range? Which competitors are affecting your sales?
Your competitors' promotion activities. Does the software track promotions, allowing you to optimize your own?
Product availability. Are you alerted when rival companies are out of stock of a certain product?
With this ground covered, pricing optimization becomes clear-cut, fast, efficient, and easy to understand.
Now on the market, there are many programs for optimizing pricing in the field of retail. Developers are constantly improving the platform, complementing them with new features and capabilities. To choose the best solution for your company, We recommend that you consider the following criteria:
Compliance with business goals: choose price optimization software with functionality that easily adapts to the specifics of your business segment. Also, pay attention to the settings. The ability to independently regulate the data processing process will allow you to receive information earlier than competitors.
The ability to integrate with other software: if you are already using programs for business automation, for example, CRM, choose a platform with the ability to connect to it. Thus, you can improve the processing of
The customer base, predicts the demand for a certain range of products.
Functionality: choose a program that provides offline access from other devices. For example, there is a pricing tool software with developed mobile applications. This is very convenient because it allows you to offer customers products at current competitive prices at any given time.
Usability level: choose a program with an understandable interface so that company employees can take full advantage of the system's functionality.
The Profit Potential with Price Opimization Software
Retailers are finally starting to recognize price optimization for its profit potential. Dynamic pricing tools allow them to set the right prices based on solid data, increasing revenue as a result. Recent reports show that many major retailers were able to increase their profits by the merit of improved inventory management without major markdowns.
Price optimization helps to improve inventory management, reduce markdowns and gain higher gross margins. Having the right software supporting your price optimization process is the secret to selling products at optimal sales levels and maximizing profit. Regardless of the price optimization model your company uses to determine prices, AI-powered pricing tools can provide your company with improved results.
Price optimization software: what are the best products?
First of all, programs differ in functionality which directly affects the cost of this system. Also, pricing tool software is distinguished by its intended purpose, for example, some platforms are focused only on small, medium-sized businesses, or large enterprises.
The integration method, the availability of a mobile version, the action of online support are the key parameters that affect the functionality of a pricing tool software. Some companies offer customers a free trial version of the dynamic pricing program for a certain period.
What is pricing analysis software?
Pricing analysis software is a tool used by retailers to collect, process, and analyze data in order to set optimal prices and boost competitiveness. Price analysis software can be used for various operational and strategic tasks from putting particular items on promo to making long-term demand predictions. Pricing analysis software can be used for multiple purposes such as:
– Set the optimal price,
– Compare prices with competitors,
– Create a best-seller list,
– Make demand predictions.
The main factor forcing retailers to look for advanced pricing analytics software stems from the fact that price remains a core factor that shoppers consider. Get this: 81% of consumers compare prices online before making a purchase. Both demand-side data and supply-side data are required to find the optimal pricing. The demand side of pricing analytics is the consumer's own pricing decisions they are making by buying products and services; whereas, the supply side refers to what the business is doing, such as how much inventory the retailer has on hand or how many units were sold at a certain price point. The demand for retailers cannot be handled through traditional online pricing analytics, as the retailers' pricing decisions are driven by different factors than those of traditional e-commerce sites. In traditional pricing analytics, supply is defined as what a company has on hand due to past production and inventory management practices.
Supply can also be defined as the number of units that are available at a particular price point and the ability to produce more units in the future and at a given price point. Demand is then thought of as what consumers want to buy below a particular price point or above a particular price point. An increase in demand means that consumers want more units at a given price or that units are becoming more expensive. A decrease in demand means that consumers want less of the product at a given price or that units are becoming less expensive.
How price analytics software works
There are plenty of pricing analysis software solutions available on the market today. Even though their complexity, accuracy, and reliability may vary, the three fundamental processes underlying the work of pricing analysis software are the same. These include:
Data collection
Highly accurate data on competitors' prices, stock availability, credit conditions, promo, and other metrics are collected or updated.
Procession and analysis
The software processes the data to deliver important analytical insights for better decision-making
Recommendations delivery
The algorithm generates demand-driven price recommendations based on the retailer's strategic goals.
The 5 Best Predictive Pricing Analytics Software in 2022 
Even though big data and analytics is a well-known term in many circles, many organizations still fail to implement practical pricing strategies with the amount of data they have available. You probably have all of your sales, transactional, product, and customer data stored in your CRM, ERP, Qlik, Power BI, or Excel spreadsheets. All that data is really just sitting there, doing nothing unless you're using it to figure out what your most profitable prices are. Keeping an eye on your pricing analytics will be vital as part of your strategy if you want to scale up and maintain a competitive edge. If this is where you are right now, then the time has come to consider what options your business has available in terms of pricing analytics software.
It's important to augment and power up your existing data with smart technology in order to profitably stay current.
Below are the top six price analytics software vendors based on criteria such as enterprise solution, national and regional company usage, our favorite piece of advice
The features the article focuses on are analytics and not business intelligence.
To learn more about the differences, check out this recent article:
It is recommended that pricing analytics software vendors in the article do not advertise their prices to the public. You can request a free demo from many vendors to see how the product can help your business. You can see which use cases are best for your organization and then request a custom pricing plan that suits you. If you are interested, we recommend reaching out to our vendors for demos and pricing.
The reviews in this article are based on publicly available information, including information from reviews, rankings, and testimonials.
Branding yourself as a cost-effective provider is not easy, but it can be done. We recommend doing some research of your own to make sure you have all the information needed to make your decision.
1. Competera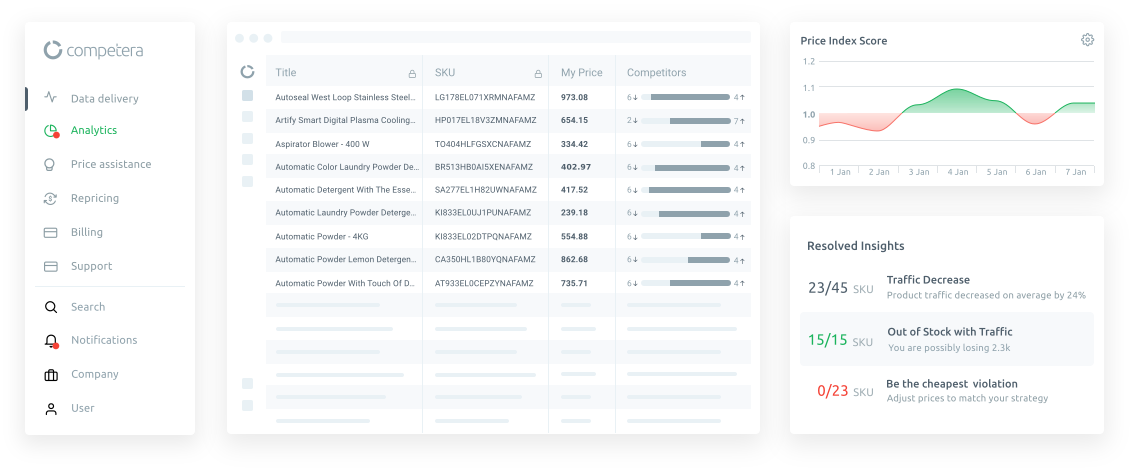 Solutions like Competera, help companies identify new sales opportunities, gain better insight into the market and improve their perception of prices. Improved performance is our aim at Price Analysis Software. One of the ways we do this is by incorporating three key processes into the work algorithm.
One of the great benefits of a hybrid approach is that you can integrate data sources from a variety of fields for more accurate market conditions. The Competera platform is able to capture information from various sources such as eCommerce platforms, marketing tools, etc., and seamlessly integrate them into your company strategy.
With all the features that Competera offers, managers can now get a complete understanding of their market and make crucial decisions in order to better serve their customers.
identify the products which are at risk of losing money

get better prices from suppliers

A pricing strategy should be in the process of being relevant, which is why it's important to modify the strategy with market changes
Competera's Competitive Intelligence enables you to save time and achieve your goals by:
search for MAP violations

Identify what features set your work apart, and then show this in your portfolio

it will be quick and easy to find events needing prompt action on our website
2. Zilliant Price IQ 
When you use Zilliant Price IQ® to focus on an entire industry and align your in-stock prices & quantities with customer orders and products, you can build more value into everything.The tool also provides the ability to implement price guidance for the diverse ways prices are expressed in your B2B organization. It also allows you to measure price responses and creates guardrails around these responses.
Functionality: 
These changes prompted all types of technological updates, which have the potential to enable businesses to respond better while having the possibility of outperforming before.

Price elasticity in microsegments

Price optimization through analysis of constraints in the market

This simulation is showing how much the revenue margin would grow if the price was lowered by certain factors before it is implemented to the marketplace.

Execute optimal pricing strategies to achieve competing profit-and-loss objectives in order to compete with other vendors in the market.
3. Pros
PROS is a great price optimization and analytics tool that integrates seamlessly with your online store. Customers of our firm are encouraged to be self-sufficient, but a knowledge-based support team will make the transition seamless.
PROS analytics is a solution that integrates all business units and generates important insights, including pricing. It strengthens your ability to handle management-level pricing concerns by reducing the number of processes and therefore costs . Pricing teams can easily create and manage pricing strategies by varying their prices based on various characteristics. For example, they can adjust the prices of their offerings based on how fierce the competition is, how much social engagement there is around it, and how much traction it gets with consumers. The analytics component of the product allows users to scale across their catalogs, regions, countries, and channels, as well as customers, to ensure the prices are optimized for whatever context that applies.
Functionality: 
Pricing with AI

An automated pricing strategy

Comparative analysis and analyzing marginal contributions

Analyze which products and customers are the most profitable and why they perform so well.

View volume, price and mix relationships across multiple business dimensions. Set the prices accordingly by considering your competitors, what the market can bear, and more.

Demand Forecasting
4. Pricefx
Description: Pricefx is great at taking care of the things you never could before. They help optimize many aspects of a business, especially when considering pricing. The best way to maximize your margins is by striking a price deal with your suppliers and customers based on the product you're selling. There needs to be alignment across regions, brands, and customer categories that can overlap each other.
Functionality: 
Price optimization

Automated Segmentations

Price List Management
5. Omnia Dynamic Pricing 
Omnia is one of the top retail industry experts, offering over 1,200 pricing modules and a CEO product overview with enterprise level pricing analytics. Its AI algorithm is designed to learn from price elasticity and pull information from other sources such as Omnia Pricewatch and Google Analytics. The Omnia pricing analytics tool uses volume and margin of products to determine the most suitable prices for retailers. Omina adjusts pricing and other variables to determine what is most likely to happen. It uses machine learning to compare any outlier data with that of the rest of the market.
Functionality: 
Dynamic Pricing

Price Rule Implementation

Competitor Price Tracking

Elasticity-based pricing

Price Forecasting

Price List Management
How to choose the price analysis software solution
There is no single set of features and benefits offered by price analytics software providers. The choice of a particular solution depends primarily on a retailer's business goals.
Here are just some of the benefits that retailers might receive from using the price analysis software:
customized data sets collected in real-time
full visibility of market changes and competitors' impact on sales metrics
highly accurate exact and similar product matches
a comprehensive vision of market violations by all the stakeholders
comprehensive insights into competitors' prices, stock availability, promo, credit conditions, and more
visualized competitive insights indicating price sensitivity to market fluctuations
actionable alerts enabling managers to prevent potential crises
How to Use Your Pricing Analytics Tool
A pricing analytics tool is one of the most important tools in your online business. It provides you with a clear picture of all your different pricing options. It will allow you to save time, money, and effort by providing you with accurate and reliable information. This is something that many new entrepreneurs miss out on.
Before you start to work with your pricing tool, it is a good idea to know which of the many different methods will be more effective for you. After all, there are many aspects of your pricing tool that will need to be considered in order to make sure that you have a complete picture of the way you do business.
By knowing what each option entails, you will have a better chance of knowing what each price should cost. Then, you can choose the best option for your business. It will save you time and money as well as your customers will no longer wonder what the price it should be.
When you work with your pricing analytics tool, you can use the choices for each product separately or you can combine them. This will help you determine what price is right for your product. The product information that is displayed includes the type of the product, the features of the product, the cost per item with shipping and handling. You can also enter the options for where the product is sold.
You can also add more information when you work with your pricing tool by having the customer service representative give you feedback on each product. Customers will often recommend a product to a trusted business because they know the right choice will be the best fit for their needs. This feedbacks are what you will receive when you work with your pricing tool.
If you have multiple products, it will be important for you to combine your pricing tool. The larger the number of products, the more time it will take to complete the research.
Pricing analytics will help you have a complete picture of all your pricing options. With this tool, you will be able to determine exactly how much you are charging your customers, which product is best suited for each customer, and more. This will help you to adjust your pricing accordingly. More importantly, data analytics will let you compare your performance and adjust/overcome if it is not on point. Data analytics are also specifically useful in helping to set prices for promotions. For example, if a customer was offered a 10% discount on the total purchase, data analytics can tell you what the average order size is before and after the promotion so that you can make adjustments based on actual performance and not just perception. .The Main Steps of Data Analytics:There are a few steps that you can follow to help with your data analytics:
1) Set up a baseline.
2) Get data from the past
3) Use results to make adjustments
4) Compare performance and make improvements
5) Review the process and set goals for the future.
Price Intelligence for the Rapidly Changing Market
The amount of data in retail is growing every day. It includes internal data about sales, promotions, and stocks, as well as external, or competitive, data about prices and other market changes.
To make this data eligible for market analysis, a retailer needs to collect it properly from all available sources, and then clean and structure every data point. However, most retailers collect unstructured data from different sources. Therefore, it is difficult to use such data for price intelligence or to create a winning pricing strategy.
Retailers' biggest challenge is to analyze data and obtain insights that they use to compete in the constantly changing market. The insights usually cover repricing, promotional activities or assortment: every one of these can transform a business into a retail winner if arranged correctly.
| Price | Competition | Shopper |
| --- | --- | --- |
| 60% of shoppers choose the retailer with the "optimal" price (PWC) | 12,000 of retailers (mostly in the US and the EU) from different industries which manage over 1.6 million stores | 71% of in-store shoppers who use smartphones for research say that it has become an important part of the experience (Google) |
It is important to transform the daily search and analysis of market opportunities into an organized and manageable process consisting of a minimum number of routine tasks. To do that, retailers need to select a solution that will do these tasks for them.
Why is Price Intelligence Important?
Price intelligence is important because retail pricing is a fast-paced, competitive, and ever-evolving world where the right or wrong price has a direct impact on sales and profitability.
Today's consumers are more sensitive to price than ever before. The ability to compare prices via smartphones has given rise to showrooming and web rooming, as shoppers are able to view products in-store or online and check to see if a better price can be had from a different channel. In fact, there are many mobile applications designed specifically for price comparisons and most retailers offer price-match policies to stay competitive.
Furthermore, the speed and scale of eCommerce mean prices online fluctuate much quicker than possible at brick-and-mortar retailers. Amazon has been reported to adjust its products' prices every few minutes, and many larger brands and retailers do the same. Price changes often lead to a waterfall effect, where the first brand or retailer to change a price sparks follow-up changes from competitors to match.
What can all that look like?
Price wars can have a negative effect on margins, as competitors all race to the bottom and sacrifice profit for sales.
The growth of marketplaces like Amazon and eBay introduces new sellers into the market, increasing competition and making it harder to track prices at scale and with speed.
Therefore, the end goal of pricing intelligence is to ensure prices always meet a core business objective: either to be competitive, protect a margin, establish a reputation, or something else. Pricing intelligence is important because it helps you achieve your goals.
The Process of Price Intelligence
The process of price intelligence software takes a time-consuming process and automates the "heavy lifting". The process goes like this-
1- Finding the products on your competitors' websites.
2- Matching the products to find exact matches through both machine learning & human intelligence.
3- Extracting all the key data such as pricing information, promotional pricing data, delivery costs, and stock availability.
4- Building and keeping your database up to date on a day-to-day basis while checking for accurate reliable information.
5- Sorting your data into various reports, visualizations, and any bespoke ways you need to manipulate the analytics. Now, with your improved price intelligence insights, you can reap the benefits listed below.
The benefits of pricing intelligence software
With all of this information at hand at all times, retailers have several opportunities to boost their revenue and sales and can make pricing decisions at a lower risk than pricing based on experience alone. With effective software, retailers can:
Identify potential niches and market gaps that they can fill
Discover opportunities to increase prices (e.g. when competitors are out of a given item)
Protect and maintain their brand image
Understand their exact market positioning for each individual product
View the market positioning of key competitors
Identify potential MAP violators
Price Intelligence Software: rich choice, scarce value
An in-house price intelligence solution is expensive to develop and then maintain. Retailers who value their time and resources use a SaaS solution to solve the same task: cloud-based software ensures a quick and seamless integration with the retailer's internal system and allows being flexible in price management by expanding or narrowing the set of functions.
It is hard to choose the right solution since there are many of them. Non-comprehensive research across relevant listings shows over 370 solutions to manage prices.
There are solutions that focus on data collection, while there are those which help retailers interpret the data and make the right decisions.
Businesses need to choose wisely: the perfect PI solution has to comprise the maximum number of functions necessary for retailers.
Comparing and choosing the right price intelligence software
Retailers have a plethora of options to choose from when selecting price intelligence software. That being said, each software can differ greatly in terms of the data provided, how often this data is re-checked for accuracy, and how this information is displayed. When determining which software might be the best one for your company, keep in mind the following key factors:
Data accuracy and delivery. The ideal price intelligence software should have very accurate data that is delivered when you need it most.
Transparency. Your provider's platform should notify you of important details, such as if certain information is out-of-date, or if your prices are considerably lower or higher than the rest of the market.
User-friendliness. Your software should display all the information in an easy-to-read manner, provide graphs and other useful imagery for planning and analysis, and should not be too confusing or time-consuming to use.
Customizability. The platform you select should be customizable to your needs. Avoid software that gives large data dumps of competitors you may not need to track.
SLA and customer support. Read carefully over the provider's SLA to ensure you have the flexibility and a guarantee of quality. Additionally, make sure that your software has adequate customer support available to answer any questions you may have.
Most software providers offer a trial or demo of their product for you to try, and it is highly recommended that you do so before making a more serious, long-term investment. Regardless, if you are not already using price intelligence software, you will most assuredly find that your pricing strategy is greatly enhanced once you find the right software for your business. With price intelligence software, you can increase your revenue effortlessly and stay in the know about your own market.
Retailers should remember that the main goal of this solution is to increase revenue by optimizing pricing. This consideration has to drive the choice of the solution and its integration.
It is crucial that the retailer-provider agreement contains additional points covering the following:
the criteria for data quality and delivery
all the reports are accessible to the user
reports can be customized and optimized
What is price management software?
Price management software is a tool that enables retailers to both collect and analyze all of the pricing and non-pricing data they need to make important strategic decisions and optimize their prices. Advanced software based on algorithms can process all the information retailers need and run simulations to calculate the optimal prices for a retailer's products.
Additionally, price management software can collect and present your historical data for analysis. The ability to compare and contrast with the data on other companies, and to reflect on the effectiveness of past decisions helps ensure that your price strategy can be planned confidently. With the right price management software, you can be sure that your decisions are based on solid data and will lead to increased revenue without the riskiness of setting your prices on experience and intuition alone.
The modern, rapidly progressing market requires retailers to use modern solutions in regard to pricing management. Luckily, thanks to advanced technologies, advanced price management software are available to retailers hoping to stay competitive, increase revenue, and make the right decisions in regard to their pricing strategy.
Price management is a vital component of retail, but it doesn't have to be complicated. There is a multitude of price management software providers offering you the solution to your pricing needs, and the right one for your company is out there somewhere. With the right price management software, your business can optimize your prices, plan your strategy with confidence, and increase your revenue, all while avoiding the human error and bias involved with managing prices manually.
Why do you need price management software?
Managing prices for your products manually is an intense process riddled with potential errors along the way. With so much data to be collected and analyzed, and so many calculations to be made, leaving these tasks to be done by hand means sacrificing accuracy, and speed, and as a result, sacrificing potential revenue gain. What makes price management software such a worthy investment for retailers is the fact that it is an all-in-one solution for pricing. The advanced price management software takes the headache and worry out of the price management process, and assures that revenue will be maximized with every pricing decision made.
That being said, not all price management software is the same. When investing in such an advanced tool, it is important that several factors are considered:
Integration & implementation. The software should be easily integrated into your current price management strategy. Implementing the software should not be a slow process, and the provider's customer support should be capable of helping you implement the software effectively, answering any questions you may have along the way.
Accurate, fresh data. Good pricing management starts with high-quality data. Your software should regularly refresh the data it is using to base your prices on so you can always stay ahead of the market. Additionally, their scraping methods should be capable of providing accurate data to you despite potential blockers and should notify you if you have any gaps within your dataset.
Immediate results. Though price management software does become even more fine-tuned to your unique business needs over time, its benefits to your company and your team should be noticeable rather quickly. Most businesses using satisfactory price management software see a revenue boost within just a few months of implementation.
Demo or trial period. Most software providers offer some sort of trial or demo of their product for you to try risk-free. Considering what an important investment price management software can be, using a trial of the software can give you important insight into how capable the software is, how user-friendly it is, and other important factors to consider before making a more permanent investment.
Pricing Software FAQ
Priceoptimization.org FAQ
The software providers shown on our site are selected based on a combination of market analysis (e.g. mentions in media, search results) and their rankings on google. Companies are then ranked according to client reviews and our own manual review of the features, benefits, and overviews of each software provider as well as customer reviews.
Though our site does not publish or quote specific reviews from clients regarding each software provider, our rankings consider both positive and negative client reviews. Companies ranked higher on our site have less negative comments from users, while lower ranked software providers have more. These comments are not mentioned in our overviews as they are meant to be factual descriptions of the software, but the way that we compare and rank each software does consider the benefits and drawbacks of each provider as reported by customers.
Price optimization software providers mentioned and ranked by us can personally contact us through our provided contact information if they feel like any information given on our site about their software is incorrect and needs fixing. That being said, no direct comments can be made by users or vendors on our site, so they cannot comment directly on their own review pages. In order to avoid bias, we maintain full control over each software ranking and overview so companies cannot change their own rankings or descriptions.